The up-mast architecture of STRAITMASTER consists of dual redundant magnetron transceivers embedded into the turning unit and directly coupled to the antenna, hence eliminating the waveguide path and enhancing the radar echo returns, meanwhile drastically simplifying the installation since featuring a Plug&Play concept, a distinguishing mark of ICS's radar systems which allow any technician to carry out a smooth installation by following a few and simple steps and without having been previously trained for it.
The radar family exceeds the performance recommended by IALA Guideline No.1111 and IALA V.128 and offers a wealth of configurations, including a down mast configuration with a separate transmitter suitable to be matched with any third-party antenna, new or existing ones in retrofit programs.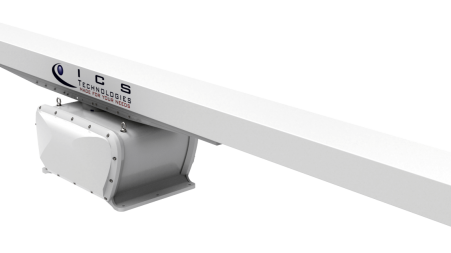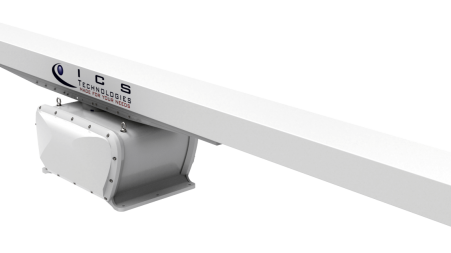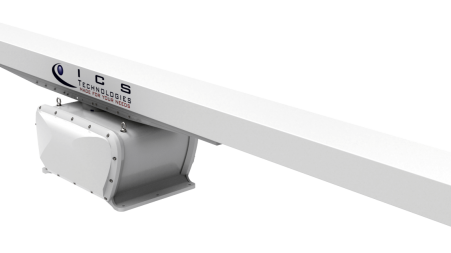 KEY STRENGHTS
STRAITMASTER represents the right choice when looking for a cost-effective or budget constraint solution without sacrificing the performance.
Among the other characteristics, key strengths to be highlighted are:
Zero attenuation concept
Reduced footprint
Native SNMP
DDS ready with embedded Linux O.S. for Navy applications
Ease and quick to install with ICS's Plug&Play concept, zeroing any possible installation mistake
Unbeatable reliability and reduced maintenance (no transmission belt, magnetic encoder, …);
Designed as a lower replaceable unit in order to make repair easy and quick
Availability > 99.99%
Full self-diagnosis (BITE);
High-end radar arrays;
MAIN FEATURES
ZERO ATTENUATION CONCEPT
XRAD-STRAITMASTER radar embeds two transceivers in the scanner unit, operating in hot/stby mode, and directly coupled to the antenna. This is the meaning of ICS Technologies "Zero attenuation concept", which provides the following technical and economic advantages:
Zero attenuation between transceiver and antenna unit (no waveguide path) and best radar echoes.
Zero maintenance on running waveguides and reduced installation costs.
Improved visibility in the short range (reduced main bang at minimum).
PLUG&PLAY CONCEPT
System is provided with mil-std connectors and any connection cable is pre-assembled and tested at factory. Best quality material is used, and system is designed for a lifetime of over 20 years.
No more waveguides to install between antenna and transceivers
No cables to assembly at site
No more errors or necessity of special tools during installation
XRAD-STRAITMASTER installation is simply, time saving and convenient
EASY MAINTENANCE CONCEPT
The radar motor is geared with direct drive transmission. Transmission belt, which must be maintained periodically has been removed. Easy: no belt, no maintenance!
The radar motor is installed inside the rotation unit, not exposed to atmospheric environment, thus increasing its reliability drastically.
The motor gearbox is equipped with a hydraulic hose in order to make the maintenance operations (purge and refill the oil) easier.
The system is equipped with hollow-shaft magnetic encoder, available with single or dual encoder head. This type of encoder has the highest reliability since does not have any wearing between moving parts and does not require any maintenance other than providing a superior precision due to the absence of backlash (that is typical of encoder with chain).
System is designed for high availability (>99.95%).
CONTROL SOFTWARE
Straitmaster radar systems, in any configuration, are supplied with XRVIS, ICS's service control software which allows the visualization of the radar video, the control of the radar functions, and displays the continuous BITE. The integration with other software (VTS, VTMIS, Tactical, and so on) is performed via EUROCONTROL Asterix protocols.
CONFIGURATIONS
STRAITMASTER features a magnetron transceiver in a single or dual redundant configuration, and it is offered with arrays from 6 feet to 21 feet. Small size arrays from 6 to 12 feet are fitted on a reduced footprint, lightweight scanner unit. Arrays 18 and 21 feet are fitted on a reliable 3-phases motor scanner unit, driven by a dedicated Antenna Supply Unit which allows several rotations per minute settings.
CONFIGURATIONS
No IALA Compliance

Exceeding

IALA BASIC

Exceeding

IALA STANDARD

 Exceeding

IALA ADVANCED

 TURNING UNIT
 TRANSCEIVER
25kW
ANTENNA SIZE
6ft
9ft
12ft
18ft
21ft
AVAILABLE ANTENNA POLARIZATIONS

Horizontal
Circular
Vertical

INSTALLATION

Single up-mast embedded
Dual mast-mounted
Dual down-mast

Single or Dual up-mast embedded
Dual mast-mounted
Dual down-mast

DOWN-MAST CONFIGURATIONS

Suitable to work with any third party antenna



Mobile surveillance Vehicles





OPTIONS
STRAITMASTER according to the scope of use and customers' requirements, may be configured with a wide choice of options, among
Fully redundant configuration with up-down mast or down-mast transceiver
Single or redundant Extractor-Tracker
Advanced Doppler Processing
Radar Signal Analog Output for use with Oil Spill software Modules
Dual Switchable array polarization
Quasi Cosecant2 Array
Quasi Inverse Cosecant2 Array
De-Icer kit for extremely low temperature environments (-50°C)
8192 or 16384 azimuth pulses; (standard 4096)
Redundant encoder
Extended 7 ÷60 RPM Rotation per Minute features